The City of Woodland provides recycling pickup services free of charge to its residents.
Beginning January 1, 2021, this service will be provided by Republic Services. The pickup day and schedule will stay the same: every other Thursday, have materials curbside by 7 a.m.
If you still have a green Waste Management bin, call 952-358-9936 to arrange its removal.
If you received a Republic bin that was not the same size as your previous bin, call 952-358-9936. We apologize for the error! We've realized that Waste Management did not record all the size upgrades and changes made over the past several years and provided inaccurate data. We're doing our best to remedy the situation. Please be patient as we order new containers and get them delivered as soon as we can.
Valet service is any recycling pickup that is not curbside, down at the street.
Woodland is happy to arrange valet service as an add-on to the basic curbside service for $11/month or $132/year (Republic fee plus 10% administrative charge), invoiced annually each January. Valet service is defined as pickup that is not curbside at the street, regardless of whether it is walk-up or drive up by the Republic crew. Valet service requires two documents to be signed and returned to City Hall (mailed to 20225 Cottagewood Road, Deephaven, MN 55331) or emailed to [email protected]: Valet Service Application and Property Entry and Hold Harmless Agreement_
Recycling Customer Service 
Please call Republic Services at 952-941-5174 if you need to:
Report a missed pickup
Set up new recycling service
Make cart size changes, exchanges or repairs (requests will be fulfilled after April 1, 2021)
Please email [email protected] if you need to:
Sign up or pay for valet service
Have questions about billing for valet service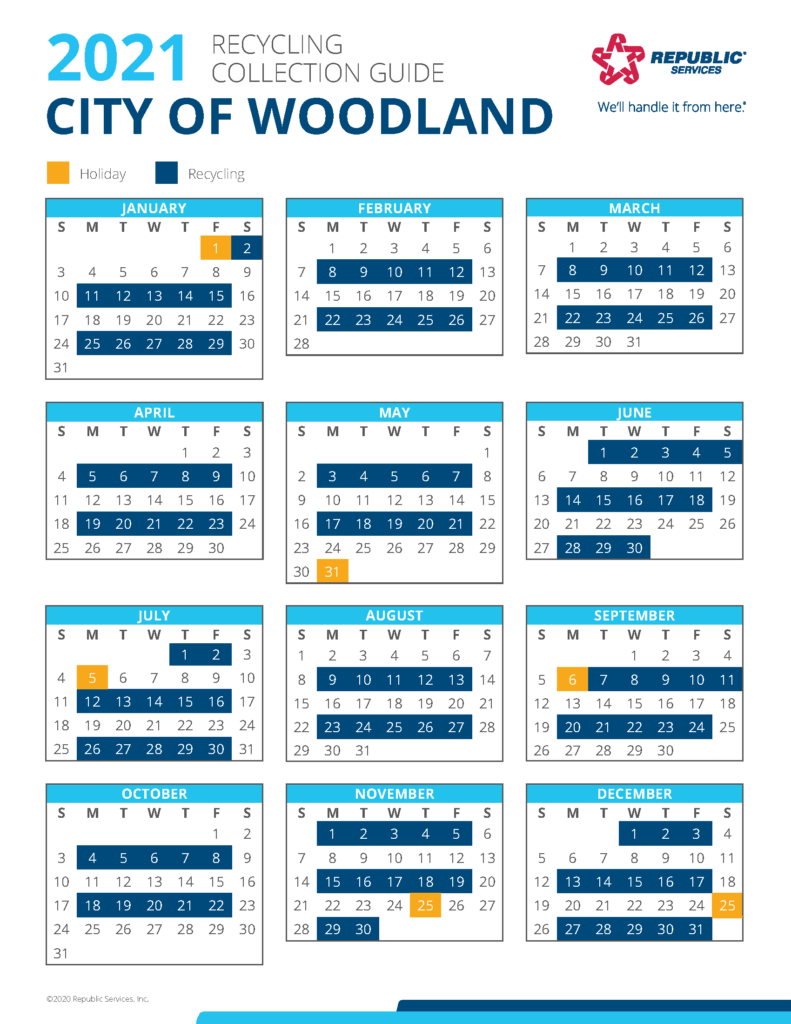 Hennepin County Drop-Off Facilities
Hennepin County has two year-round drop-off facilities where residents can get rid of recycling, electronics, appliances and household hazardous wastes.
Organics Recycling
Organics recycling is accepted Tuesdays-Saturdays at the Bloomington and Brooklyn Park locations of the Hennepin County Drop-Off Facilities. No charge, up to five bags.
Guidelines for organics recycling at the Hennepin County Drop-off Facilities:
Organics must be generated in Hennepin County and be separated from trash and recyclables. Must also be in a closed BPI-certified compostable plastic bag. Look for the BPI logo and go to www.bpiworld.org for more info.
Acceptable materials include:
All food – fruits, vegetables, meat, fish, bones, dairy products, eggs, egg shells, pasta, beans, rice, bread, cereal, nuts and shells

Non-recyclable and food-soiled paper not coated with plastic – pizza boxes from delivery, napkins, paper towels, paper egg cartons, facial tissue
Certified compostable products – compostable paper and plastic cups, plates, bowls, utensils and containers. Look for the BPI or Cedar Grove logos or the term "compostable" on certified products.
Other compostable items – coffee grounds and filters, hair and nail clippings, cotton balls and swabs with paper stems, houseplants and flowers, tea bags, wooden items such as chopsticks, popsicle sticks and toothpicks.
Yard Waste
Arrangements for disposing of yard waste may be made with your garbage service or waste may be dropped off at County disposal sites. Hennepin County offers yard and tree waste disposal and sells low-cost compost bins to all county residents. In addition, the Mulch Store accepts yard waste drop offs and is a resource for compost, mulch and more.
Nearby Donation Centers
Bethesda Thrift Shop, 4749 County Rd 101, Minnetonka
Goodwill, 13820 Wayzata Blvd, Minnetonka
Arc's Value Village Thrift Store, 2751 Winnetka Ave N, New Hope
Bridging, 201 W 87th St, Bloomington