Municipal Sewer and Water
The City of Minnetonka provides municipal water service to a small portion of Woodland.  The neighborhood known as Groveland Homeowners Association and several properties along Stone Arch Road.  These neighborhoods are located along the north east municipal boundary of Woodland adjacent to Minnetonka.
Quarterly Billing
The City of Woodland sends quarterly bills to the households connected to the municipal sewer and water system.  The rate is determined by the City of Minnetonka's prevailing rate to their residents.
Each property in the City that is connected to the municipal system receives a bill for actual water usage.  The charge for sewage is based on the winter quarter usage.  That means the bills received following the winter quarter generally shows the lowest water consumption because residents aren't watering their lawns, filling swimming pools, washing cars, or any of the other outdoor uses that do not go into the sewage system. That base is used throughout the year on the remaining three quarterly bills to calculate the sewage charge.  The water charge is based on actual consumption each quarter.  The water meter is read once a quarter and the amount used is rounded to the nearest 1,000 gallons of usage and billed accordingly.  Woodland residents are required to pay a minimum of 15,000 gallons per quarter based on our agreement with the City of Minnetonka.
Direct Auto Payments:
Residents can now sign up for direct auto payment of their municipal utility bill.  Complete the following authorization form and attached the documents as required and return to the City of Woodland.  Once completed, auto payments will be debited from your account on the due date stated on the municipal utility bill.
Septic System Information
Why Are Septic Systems Necessary?
Over 25 percent of Minnesota households use on-site sewage treatment systems, commonly referred to as septic systems, to treat their wastewater. While septic systems are designed and installed by licensed professionals to meet the needs of individual sites, homeowners are responsible for the system 's operation and maintenance. Often septic systems fail because owners do not maintain them after installation.
What Do Septic Systems Do?
Septic systems protect human health and the environment by safely recycling wastewater back into the natural environment. Septic systems treat wastewater as well as, or better than, municipal treatment systems at a reasonable cost when properly designed, installed, operated, and maintained.
Federal, state, and local regulation of on-site systems focuses on proper treatment of sewage to protect citizens, communities, and the environment.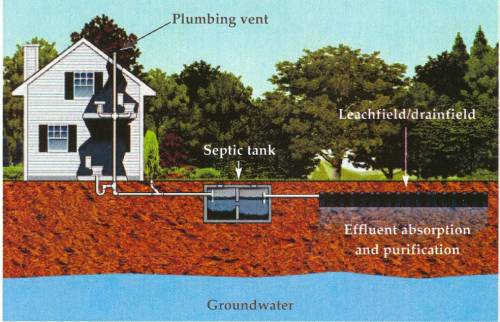 Residents in areas without access to public sewer systems maintain their own septic systems or subsurface sewage treatment systems (SSTS). A poorly functioning septic system is a threat to human health and the environment because it may not remove pathogens, nutrients and other chemicals from the used water before it enters our groundwater or lakes.
Understand your system
A septic system has three parts:
household plumbing,
a tank to collect sewage and solids, and
a soil treatment area.
All three parts must be working to provide effective sewage treatment.
Properly maintain your system
Many septic system owners assume as long as their used water "goes away," their system must be working properly. Septic systems must be designed specifically for your site's conditions and installed correctly. Only regular maintenance and evaluation of the system can ensure that it is actually treating your sewage.
Look for symptoms of a poorly functioning septic system. These include a pipe that goes directly to the lake or ground (even laundry water!), sewage surfacing in the yard or a ditch, sewage odors, high levels of nitrates or coliform bacteria in well water tests, or algae blooms and excessive plant growth in nearby ponds or lakes.
Manage your system
These operation and maintenance guidelines will prevent costly repairs or premature replacement of your septic system.
Household plumbing
Conserve water, repair leaks and use low-flow fixtures.
Spread water usage throughout the day and week. If you have periods of high use, talk to a septic professional about options that will help your system manage your lifestyle.
Minimize use of harsh cleaners, bleach, antibacterial soaps and detergents.
Do not dispose of paints, medications or chemicals through your septic system.
Keep grease, lint, food, feminine hygiene products and plastics out.
Septic tank
Pump solids through tank's maintenance hole regularly — at least every three years.
Do not remove solids through inspection pipes.
Install and insulate risers to maintenance hole for improved management access.
Have baffles inspected when tank is pumped.
Install an effluent screen and service as necessary.
Do not use tank additives or cleaners.
Soil treatment area
Maintain grass, native grasses or flowers over the treatment area. Mow, but do not fertilize, water or burn.
Do not plant trees, shrubs or deep-rooted plants on or near the area.
Do not grow vegetables or locate playgrounds above the area.
Keep heavy vehicles off area (cars, tractors, snowmobiles, boats, etc.).
Hire a licensed professional to help you
The MPCA maintains a list of professionals currently licensed by the state to conduct this specialized work. Interview your septic system professional and learn about how they do business. Make sure they are licensed, reputable and reliable by asking for and checking references.
Additional resources
Since local ordinances can vary from the state code, always check with your local government (township, city or county) to determine the requirements in your area.
Seasonal Care
You will be redirected away from the City's website by clicking on the following links.
Winter
Spring
Summer
Fall
Additional Information
Septic System Pumpers
(The following companies' contact information is provided as a resource for residents.  The City does not endorse any of the septic pumpers listed on this website. The contact information is provided as a courtesy to residents.)
Swedlund Septic Services 
Phone: (952) 873-3292
Email: [email protected]
A Northern Cesspool Company, Inc.
Phone: (763) 220-2141
Service Area: Minneapolis, MN
http://www.anortherncesspool.com
Kothrade Sewer, Water & Excavating
Phone: (763) 498-8702
Service Area: Minneapolis, MN
http://www.kothrade.com
Ende Septic Service
Phone: (763) 428-4489
Service Area: Minneapolis, MN
http://www.endeseptic.com
Well Information
Private Wells
Most households in Woodland have a private well as their water source.  Well records are kept with the State of Minnesota Health Department.
You can find information on your well by going to the County Well Index Online at http://www.health.state.mn.us/divs/eh/cwi/
From the Minnesota Department of Health Website:
This page provides basic information to assist you in protecting your well. A well provides a reliable, safe source of drinking water when the well is properly located, constructed, and maintained. You can ensure the safety of your drinking water by testing the water periodically, keeping potential sources of contamination away from the well, and sealing unused wells.
CASING DAMAGE:  Be careful not to bump the well while working with trucks, equipment, lawn mowers, or snow plows. Bumping the well can crack the well casing, connections, or the grout seal around the well. Such damage may allow contaminants to enter the well. If a well is located in a high traffic area, protect it by placing three steel posts around it. Place flags or reflectors on protective posts or the well casing to increase the visibility of the well.
HAZARDOUS CHEMICALS:  Store agricultural chemicals at least 150 feet away from the well unless the storage area meets the standards of the Minnesota Department of Agriculture. Portable anhydrous ammonia tanks should be at least 50 feet away from the well. Fill bulk or spray tanks at least 150 feet away from the well preferably in a down-slope direction. When filling tanks, avoid the potential for back-siphoning into your well by fixing the nozzle of the fill hose above the tank opening and allowing the water to fall at least twice the diameter of the delivery pipe before entering the tank (air gap).
LOCATION:  The diagram above indicates the minimum separation distances required between wells and some common sources of contamination typically found on home or farm sites. A complete listing is found in Minnesota Rules, Chapter 4725. Minnesota law requires that these distances must be maintained when constructing a new well; installing potential contaminant sources, such as a fuel storage tank, septic system, or a feedlot; or when constructing new buildings, or adding onto existing structures or facilities.
PLUMBING:  Keep plumbing in good repair to maintain watertight connections. Make sure that any faucet that is threaded for a hose has a backflow prevention device. Connections that are not protected may back-siphon contaminants into the water-supply system. Minnesota Department of Labor and Industry regulates plumbing under Minnesota Rules, Chapter 4715.
SEPTIC SYSTEM:  Proper location, design, construction, and maintenance are important. Recommendations for pumping septic tanks are based on the use and size of the system. This information is available from the University of Minnesota-Extension or the Minnesota Pollution Control Agency (MPCA). Do not rely on additives. They may simply dissolve materials and send them to the drainfield. Do not dispose of hazardous materials, such as solvents and oil, in the septic system. MPCA regulates individual and midsize subsurface sewage treatment systems under Minnesota Rules, Chapters 7080 and 7081.
WATER QUALITY TEST:  Test your well water for coliform bacteria every year. Test for nitrate every two or three years, or more frequently if nitrate previously has been found. The well water should also be tested at least once for arsenic. If the well shows contamination, consult your local county health department, the Minnesota Department of Health (MDH), or a licensed well contractor. Have the well and plumbing system disinfected after work is done on the well or pump. Well water should be tested by a laboratory certified by the MDH. For a list of certified laboratories, visit the MDH Certified Environmental Laboratories website. You can also look in your local Yellow Pages under "Laboratories-Testing." Be sure that the laboratory you choose is state certified to perform each test you want.
WELL CAP OR SEAL:  Keep an approved watertight cap or seal securely attached to the well in order to prevent the entry of insects, animals, and other contaminants.  Inspect wire connections to the pump.
WELL PIT:  A well pit may serve as a catch basin for contaminated surface water and precipitation. Any well located in a pit should have the casing extended above grade and the pit filled with clean earth. Because of the danger of injury or asphyxiation only a licensed well contractor or a licensed pump installer should enter a pit.
WELL SEALING:  Unused wells must be properly sealed to prevent direct contamination of groundwater. A well must be sealed by a licensed well contractor or a licensed well sealing contractor.
Additional information about wells and well water can be obtained from a well specialist at the MDH or a delegated well program (for wells located within the jurisdiction of a delegated well program). The requirements of law and rule are found in Minnesota Statutes, Chapter 103I, and Minnesota Rules, Chapter 4725 (well code).
Flood Precautions for Private Wells
The Minnesota Department of Health recommends that well owners take the following steps if they think their well may become flooded:
Store a supply of clean water before taking your well out of service.
Disconnect the power supply for your well. If you need help, consult with a licensed well contractor or pump installer.
If you have time, have a well contractor install a watertight cap or cover on your well – temporarily replacing the regular vented well cap. Permanently extending the casing of your well above the flood level is another option to discuss with the well contractor.
If you don't have time to have a well contractor install a watertight seal, clean off the outside of the well casing and cover the top of the well with a heavy-duty trash bag or some other form of heavy plastic sheeting. Secure the plastic covering with electrical tape or some other type of waterproof tape, strapping material, or wire. Do not use duct tape – it won't hold under flooding conditions. Wrapping the well with plastic won't eliminate the need for disinfection and testing, but it will keep debris and sediment out of the well, and make the post-flood clean up go more smoothly.
Be prepared to have your well disinfected and tested after the flood waters recede.
Where Can I Get More Information or Help?
If you have any questions about wells or well water quality in Minnesota contact your local Minnesota Department of Health office, and ask to talk with a well specialist or contact the Well Management Section Central Office at (email) [email protected] or by telephone at 651-201-4600 or 800-383-9808. Deaf and hard-of-hearing: TTY 651-201-5797.   http://www.health.state.mn.us/